This page was last updated on: September 29, 2022
Welcome to Purrden Me Persians

                          Home of the Sweetest Purrsonalities around. 

                          Where we love them --and know you will too!!!!

This is Purrden Me Emily, now called Polkadot by her sweet new family!!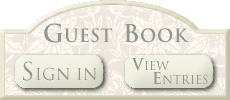 Blue cream girl -- so pale and pretty.  She grew up so fast!! Her name is Purrsefani.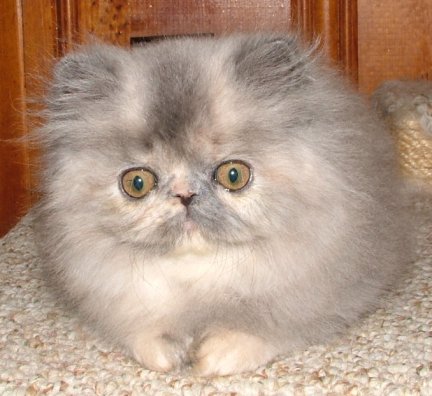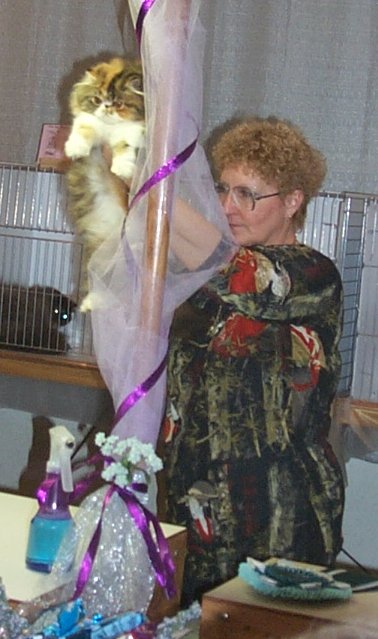 Tess got Best Kitten in that Ring with Jan. Then she went to her wonderful pet home to be spoiled and loved!She loved to show!!!

Some more of our Past! 

. . .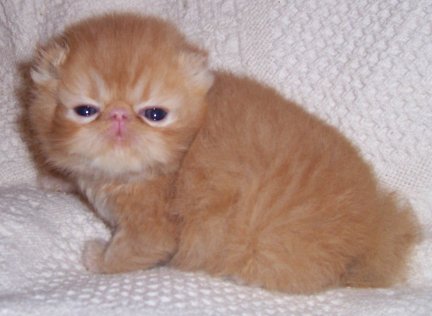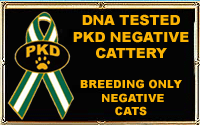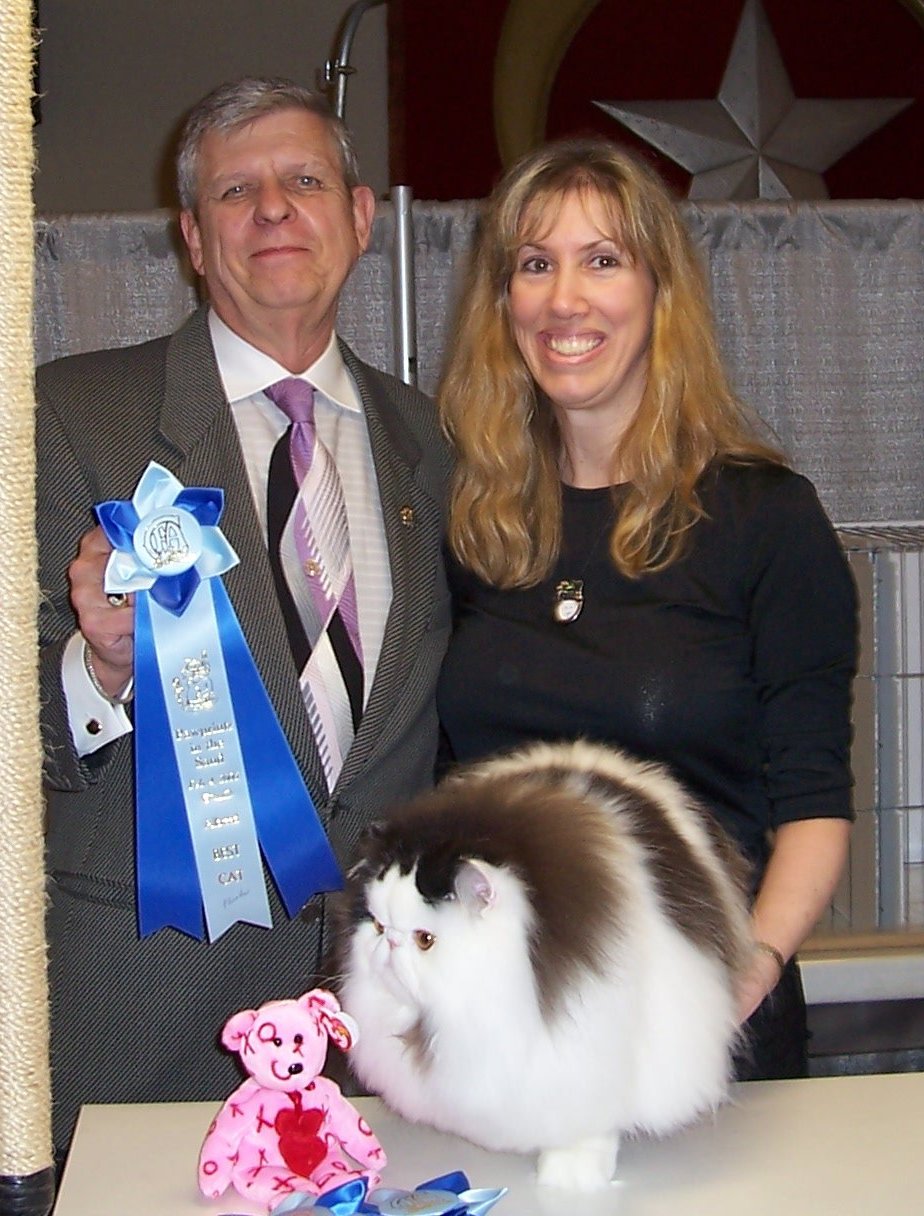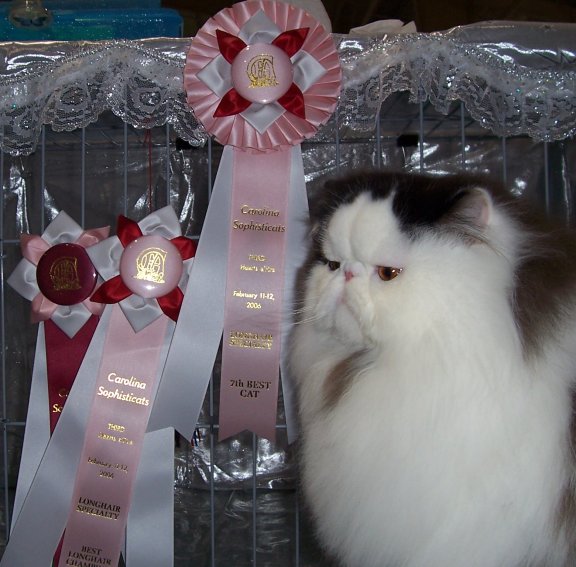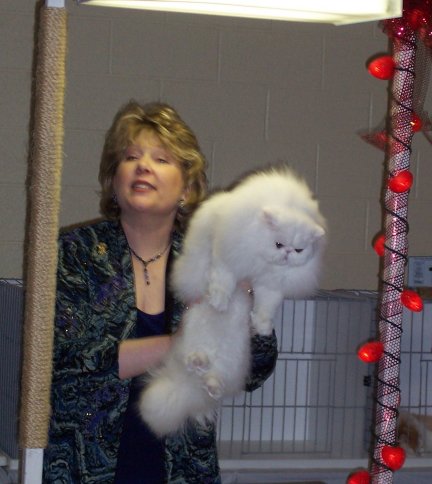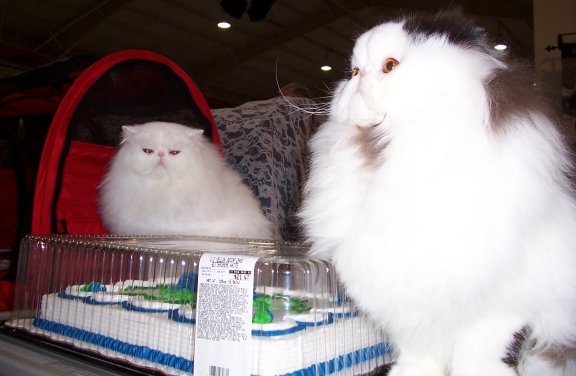 Judge Bob Zenda gives AJ the Honor of Best LH CH, Best AB CH, & BEST CAT at the Chesapeake, VA show on  2-4-06!!!

That was a very exciting moment. We're making  Memories for a lifetime!!

Peter and AJ get ready to Share their Grand CAKE!! Another Happy Moment!

Peter continues to develop as a Grand Champion!!! He's dripping in coat! He achieved his Adult Regional Win for 2006-7 Season.

The Concord, NC show on Feb. 11-12, 2006 was such a wonderful show for us!  Peter made 3 finals as a Grand Champion, AJ became our second  2 show Grand, and Pixie made 7 out of  8 finals as a 5 month old kitten!! It was so overwhelming!  What wonderful kitties! Sheer joy to show!!

2 show

Grand,

& odd eye gene carrier!

Our Boy~ AJ~ GC Designerpurr AZ Jax of Purrden Me.   Black/white Harlequin 2 show Grand!! (Soon to be a DM--13 GC offspring and counting!)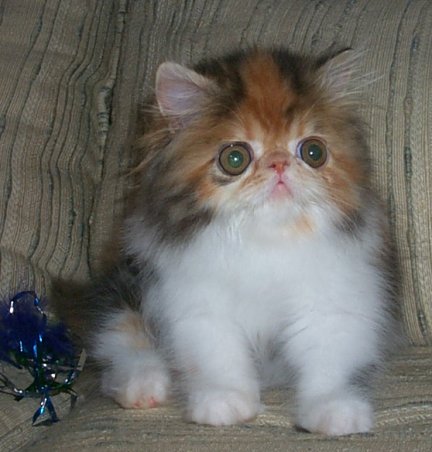 Roxi is a DM! Congratulations  to Judy --Purfect Gift Persians.. and Lisa - Genasaqua Persians!!Roxi is proud Momma to GC Purrden Me Daphne ~ 1 show Grand!! & GC Purrden Me Harley, CH,GP Purrden Me AJ's Lil Biscuit, GC,GP Genasaqua All that Jazz, GC, RW Genasaqua Cellblock Tango!!! (5 grands and counting...go Roxi!!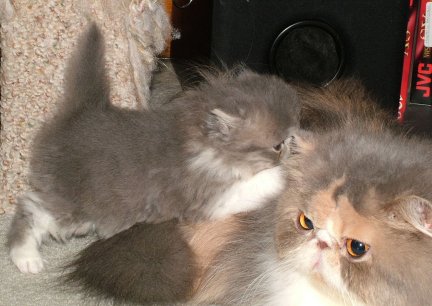 Calicos of Purrden Me Persians--Beauty beyond compare. . .

Purrden Me Persians proudly shares our 2007 show success--Go Darla!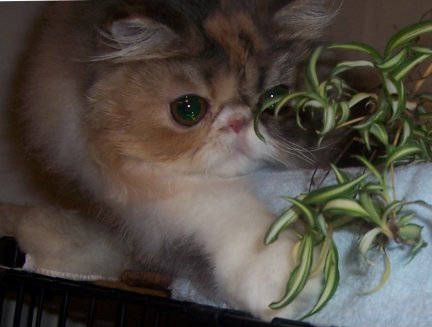 Katy is a Blue Patched Mackerel Tabby & white Persian!! 

Busy in the spiderplant!  (Her daughter Madison is a New Momma---4 kittens born 3-2010!! )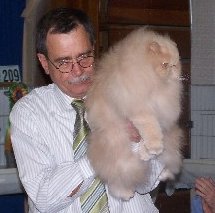 Vickie gets Best LH, Best AB Premier in Ken Currle's ring in South Carolina this weekend!  Wow!  Stunning Cream--so pale, and Beautifully presented and Shown!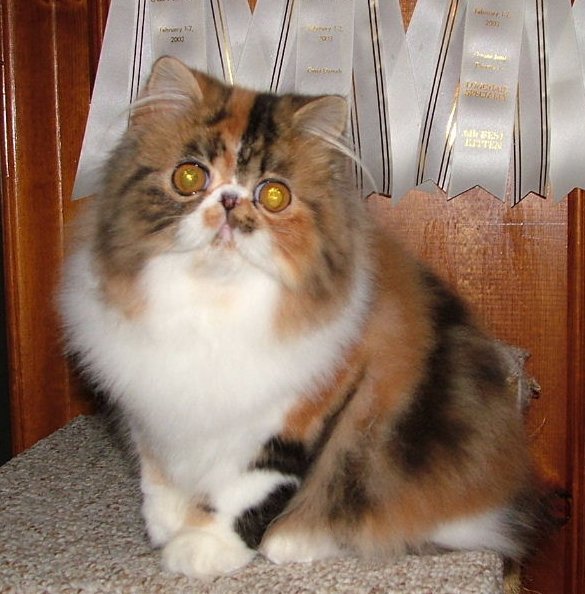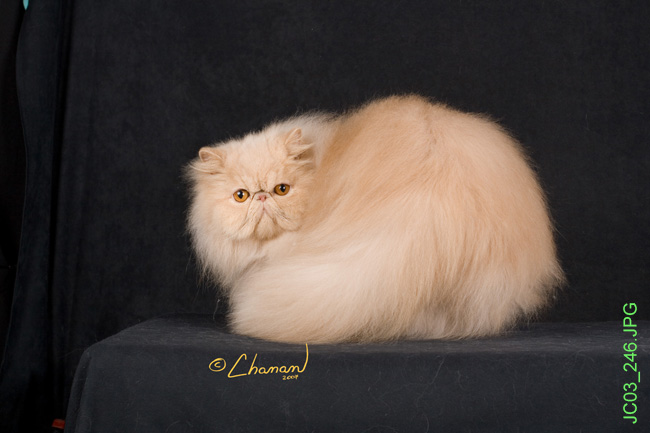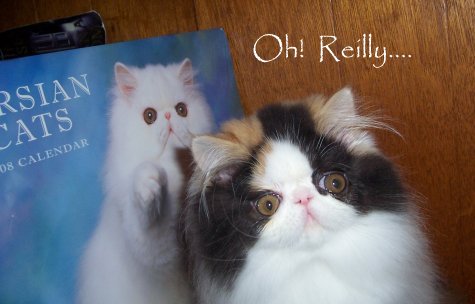 Brody & Toby are brothers.  They just love each other and keep Susan's life busy and full of love & joy!  Friends for Life! Enjoy them.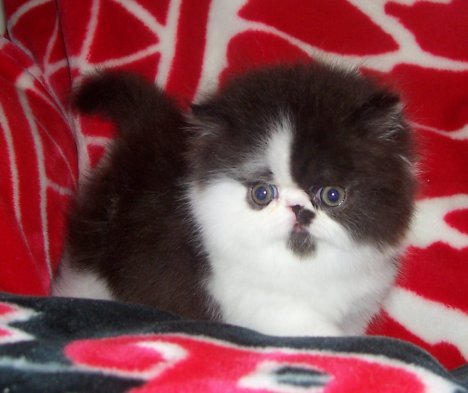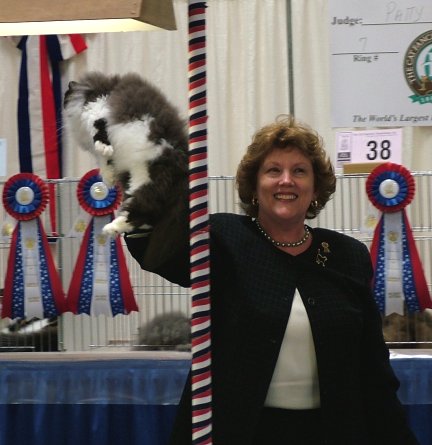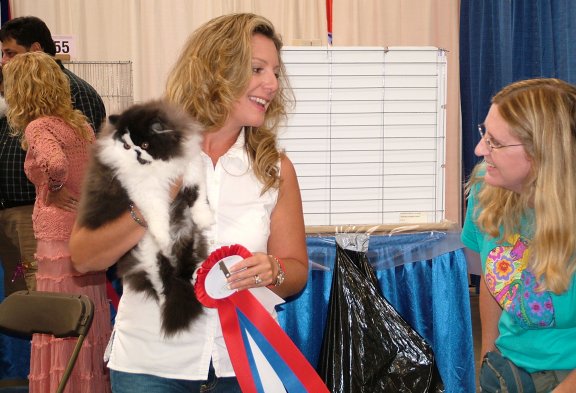 This is baby Darla at 5 weeks old.... too cute!!

    As a 4 month old, her first show was National Capital--the biggest show of the year! There were 157 kittens competing for 15 Rosettes.

National Capital -- 17 kittens in Division.  Darla made 3 finals!  Best kitten in Patti Jacobberger's LH specialty ring.  7 th Best Kitten in Diana Doernberg's LH specialty ring. 7th Best Kitten in Barbara Sumner's All breed ring!  What a fantastic start to her kitten career.

Presenting: GC, RW Purrden Me Darla of Velvetkist.   She was a stunning 2 show Grand!  (In only 7 rings!) Just like her Mom and Dad--2 show Grands must run in the family!

Congratulations & Thank you to Noralyn & Darla on this fantastic achievement!! 6th Best Kitten in the Southern Region 2007-2008 season!! 32nd Best kitten Nationally.

Darla Achieved Best Kitten in Show FIVE shows in a row!  Go Darla!! and Thank you to Noralyn of Velvetkist Persians! Awesome News!

Purrden Me Proudly Presents:

GC Purrden Me Daphne of Ocalicos

Dominant Calico & Gorgeous!  At 8 months of age, "Daphne" (aka Oh, Reilly below) is our

Very First ONE SHOW Grand Champion!

   A Huge Thank you to Nancy from Ocalicos!

Daphne Granded in 6 rings at the Space Coast

Cat Show in Coco, Florida on January 20, 2008!

   Surpassing all expectations!

Daphne is 3rd Best Bicolor Persian kitten in the Southern Region!  (Show season 2007-8) 

Daphne's first show baby was a ONE SHOW GRAND. Just like his Momma!! Congratulations to Troubadour!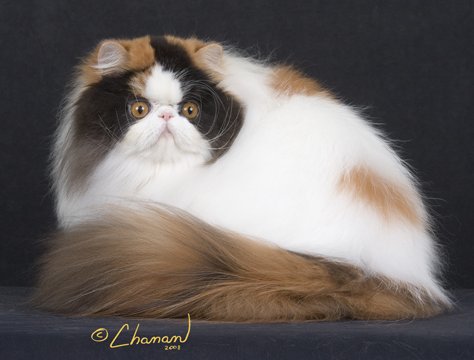 Stunning Karina! Congratulations to Nora Lynn and her family!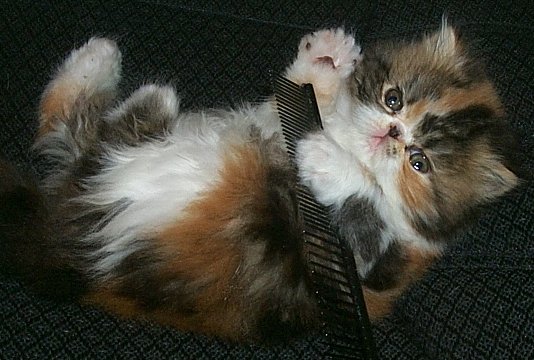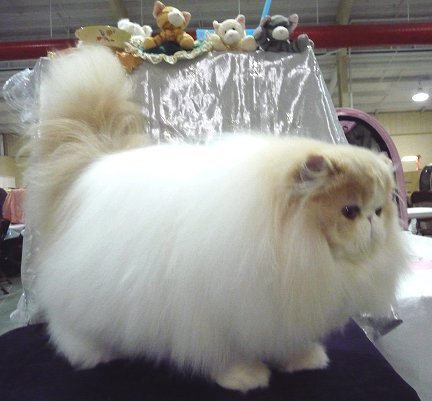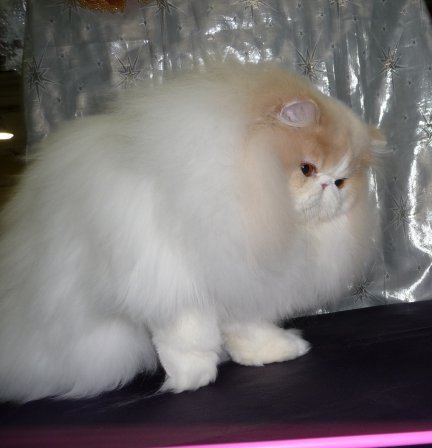 Many Thanks to all the judges that made this special event possible!! Connor Granded at Carolina Sophisticats show on Valentine's weekend!! 2-14-2009

Announcing our Newest GRAND!!

GC Purfect Gift Connor of Purrden Me! Cream/White Van male...& our newest Stud Muffin! Connor's first offspring are showing now Jan. 2010.  His daughter Cotton Candy Kisses made 2 finals in the Parma, Ohio show!!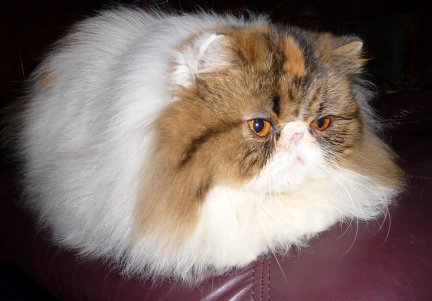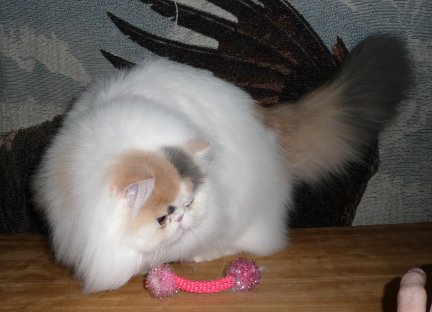 CH Kozy Brooke of Purrden Me

Brooke is a Brown Patched Tabby &

white Van Persian

female!!

This is Dot...She's just 6 months old. She's a true lap kitty!! She is a Dilute Calico Van Persian girl...and she's super sweet!!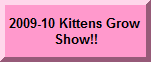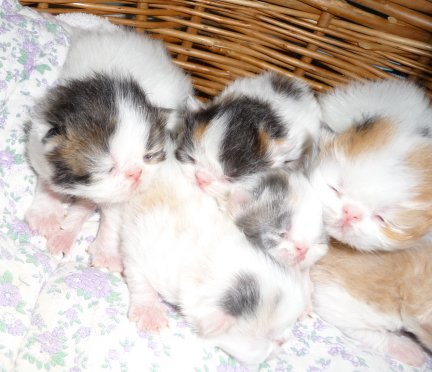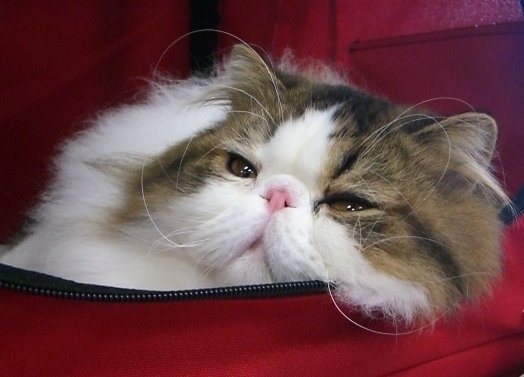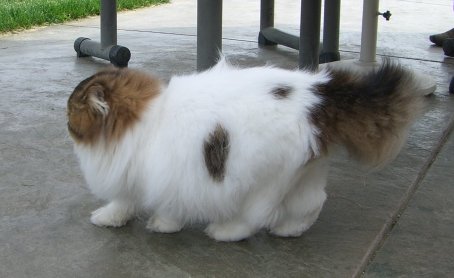 Dustie is 8 months old. 

GC Purrden Me Stardust D'oro: (CFA & TICA):

CFA : Grand Champion!!

TICA: Quadruple Grand Champion and two time Regional Winner for show season 2009-10 &2010-11 (4th Best Cat)! Dustie was TICA's 17th Best LH Cat, BEST Persian Cat, 2nd Best Persian Kitten, and Best in Color for 2009-10 season!! What Awesome accomplishments!! Yeah!


Here's our Banner, if you'd like to link with us!!

Dustie at Winery!! in California!

CARMEN !  Brown Patched Tabby & white Van baby girl...We can't wait to watch you grow up!!!

Genasaqua's Think Pink of Purrden Me.

Blue/white van girl--a sweet delight!

(CH Revillion Just Joey of Genasaqua x CH Sunnyridge Ellie of Genasaqua)

2011 Our Newest Show Babies are CHAMPIONS!! We're so proud of how well they showed at the Richmond, VA show!! They enjoyed showing & showing off!

GC, RW Purrden Me Poppy of Purfect Gift!!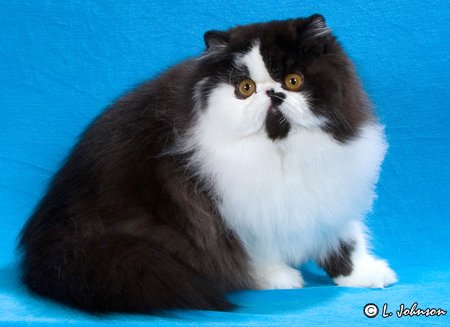 Presenting our New Grand Premier!

GP Purrden Me Vickie!! A Sweet & gentle  girl!

GC Purrden Me Daphne aka Oh! Reilly! January 2008, Our 1st One show Grand! Congratulations Daphne and Nancy (Ocalicos)!! We're so Happy for you!!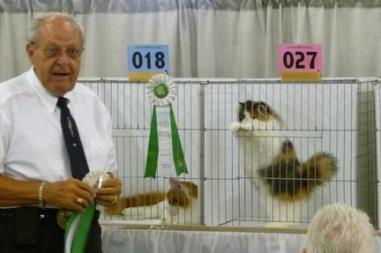 Cindy is in Don Williams' Allbreed Final --she gets 3rd Best AB kitten!!!

    Then  Best of Breed in her Division for Barbara Sumner!!!

Cindy lives in MD now!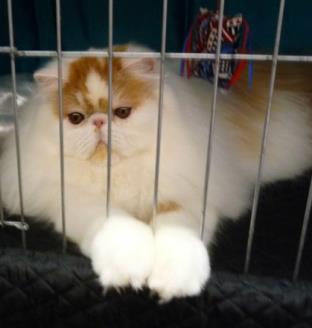 Hannah attained Champion status this weekend!!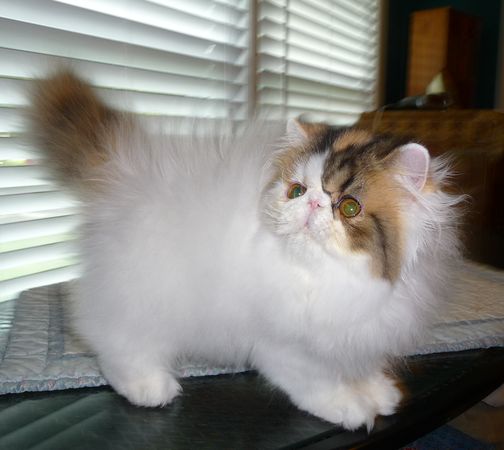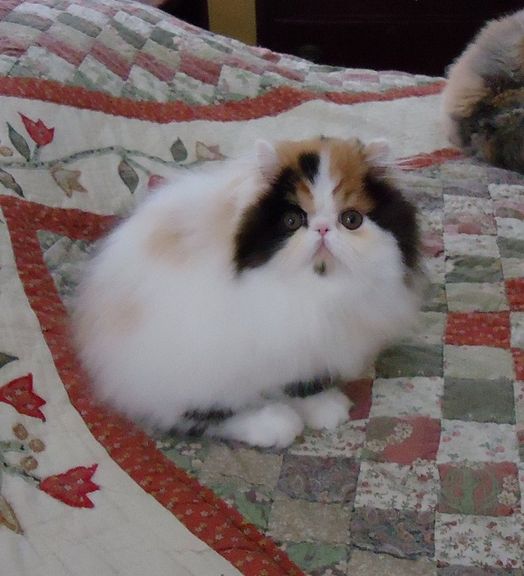 These Beauties are all in their new homes!! Spoiled and loved by families just like yours.  They live all over the world!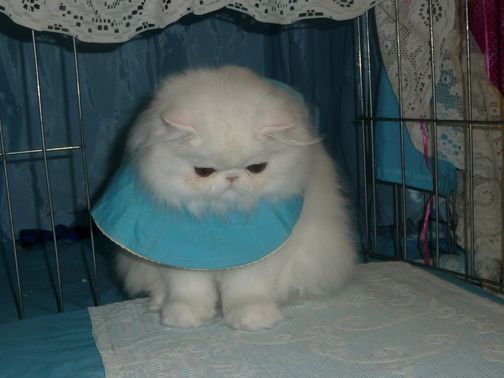 Cici is a Copper Eyed White girl! 4 months old... first show!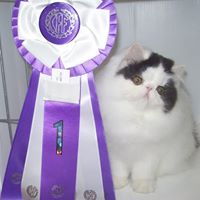 Bandit was our 1st double NW.

GC,NW Purrden Me Dr. Love aka

"Bandit"

Best Kitten,

20th Best Cat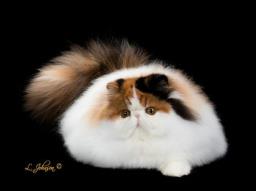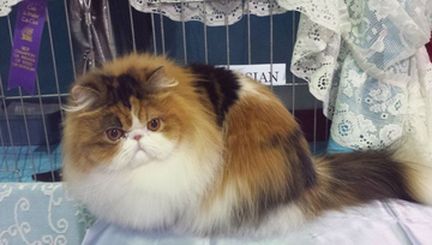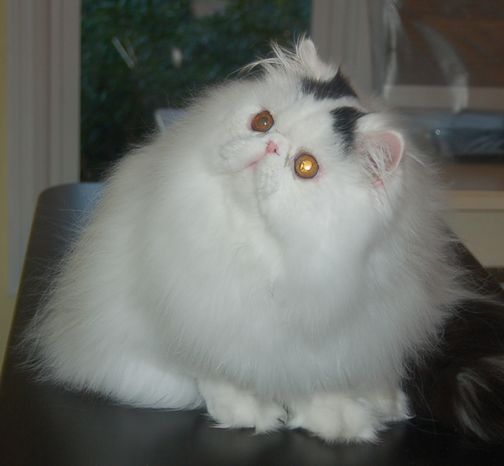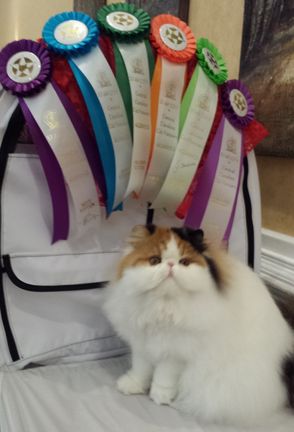 GC, RW Purrden Me Poppy of Purfect Gift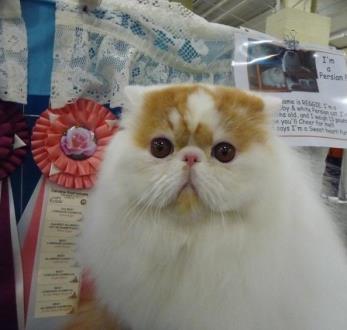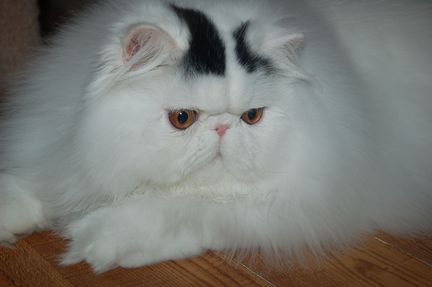 Purrden Me Rocky Raccoon --Black White Van male will start his adult show career soon!! Keep an eye out for updates!!! Go Rocky!  (proven Odd eye gene carrier!)

This is our new stud muffin--aka GC Seder Rennes RedBaron of Purrden Me.  He's a Red tabby & white boy who granded easily.  He made everyone proud!! Now he's making babies that do wonderful in the show halls.  His first Purrden Me Grand Champion, Regional Winner is  Poppy!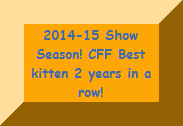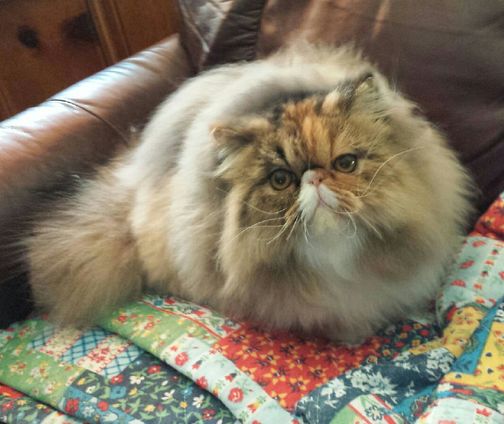 This is XEON. She's ZELDA's sister !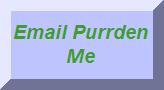 Crab & Mallet Cat Show in Pikesville, MD! Zelda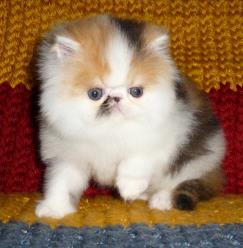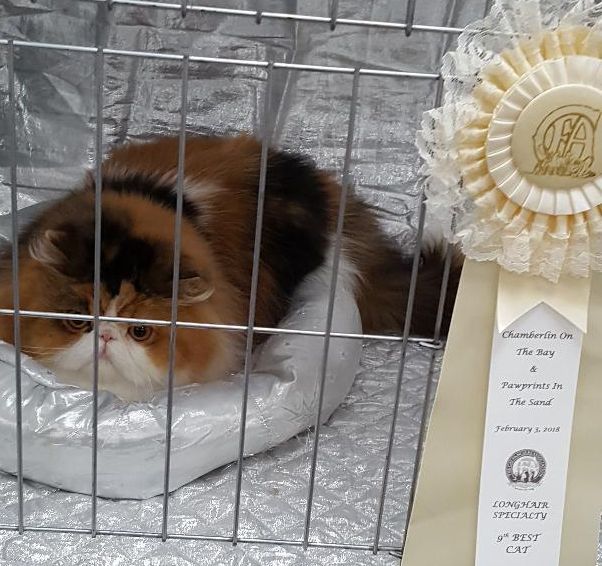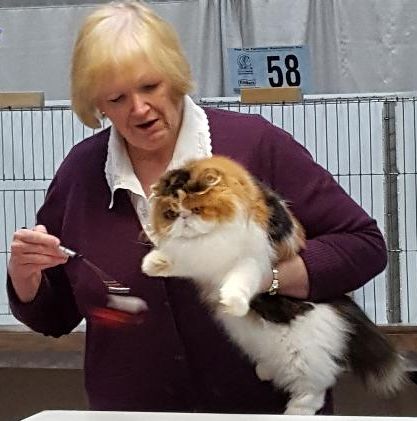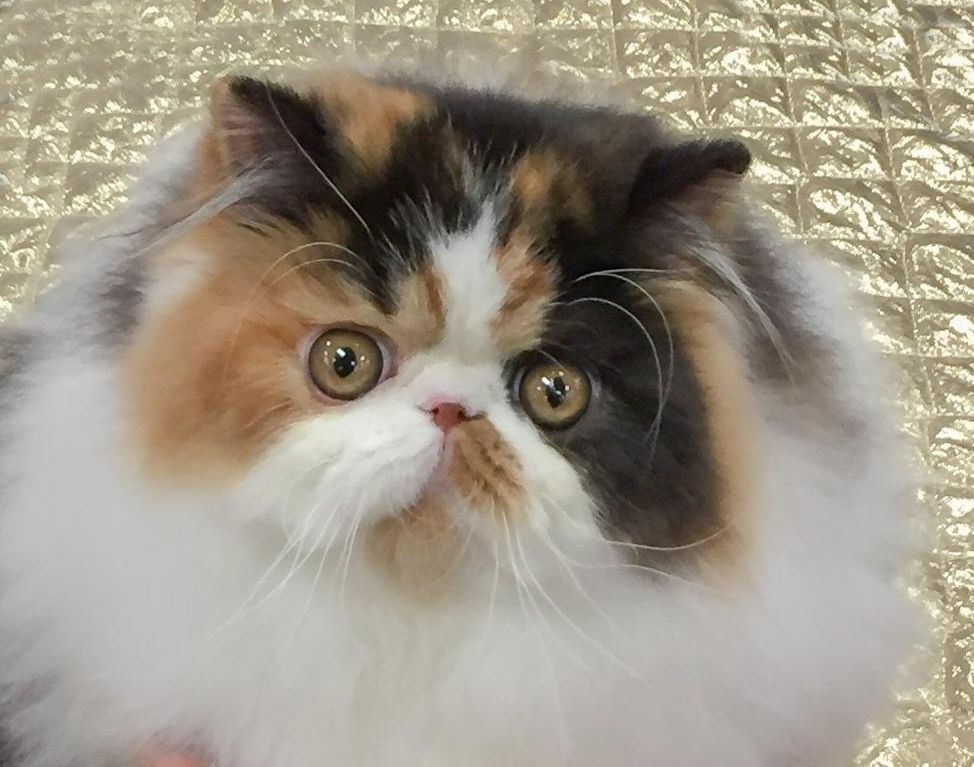 CH (grand pointed) Purrden Me Hannah--Brown Patched Tabby & white girl--5 years old.  She's an AJ baby!! and Gorgeous with a wonderful sweet personality!! She loved the show! She loves People!!  Mina is the Calico girl on the Left, she's our newest Regional Win.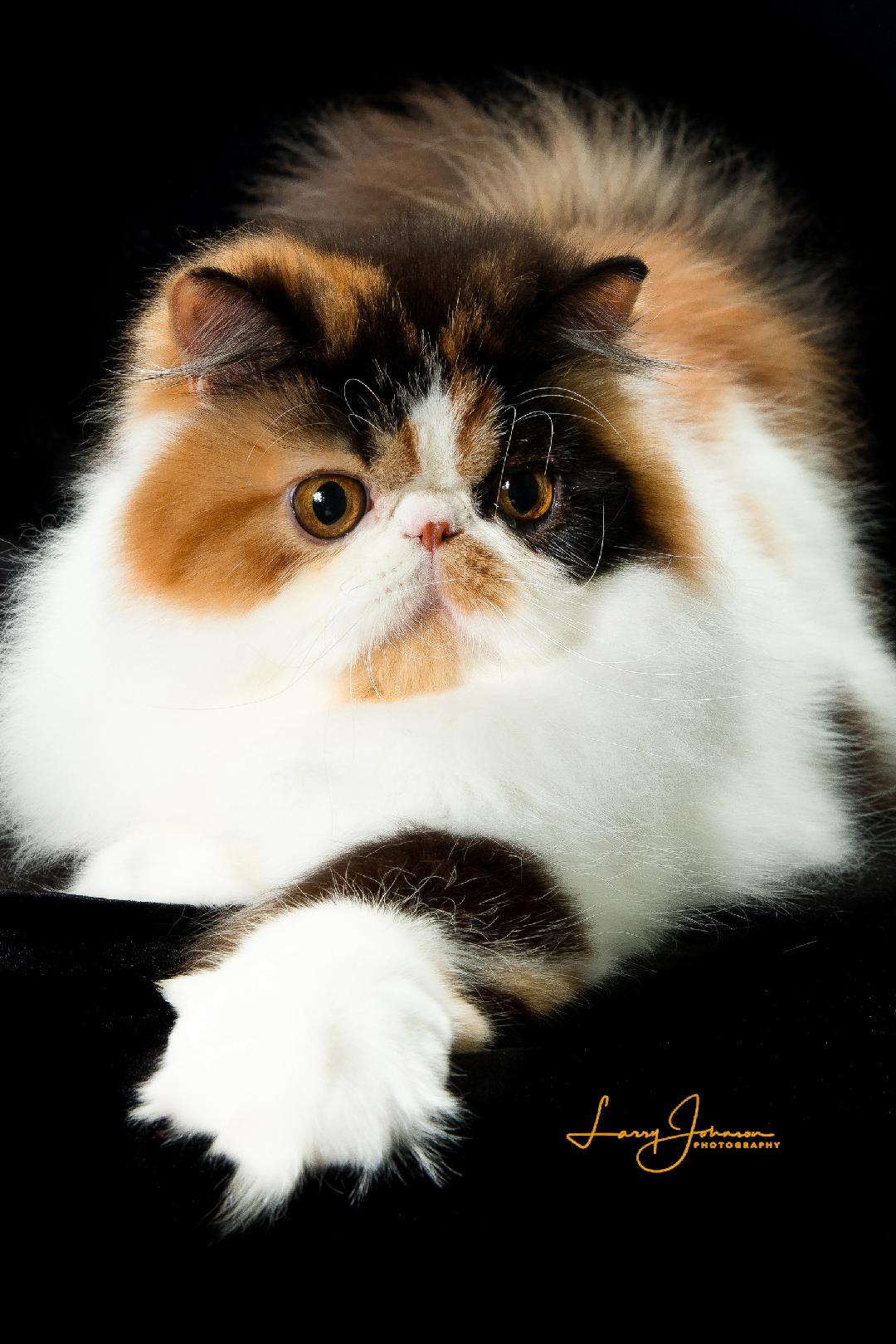 Purrden Me Persians --2022-23!!

We have some beautiful litters planned for early 2023.

CH, RW Purfect Gift Mina--our newest Regional Winner.  She's an AJ baby!!

MINA                                                      Hannah

We hope to see everyone at the Santa Paws show in Maryland in early December 2022--we'll be showing our newest show kittens!!

This is Sassy! Stop by our benching area at Santa Paws--she's super social and playful!!