Purrden Me Welcomes you!

We hope you enjoy watching one of our kittens grow up and show to his Champion and Grand Champion titles! 

Just Amazing how quickly time flies by!! It seems like only yesterday--Peter was born, and now Peter, Pixie and Toby are retired and living the "good" lapkitty lives that we all enjoy!!

Peter, A Copper Eyed White boy... grows up.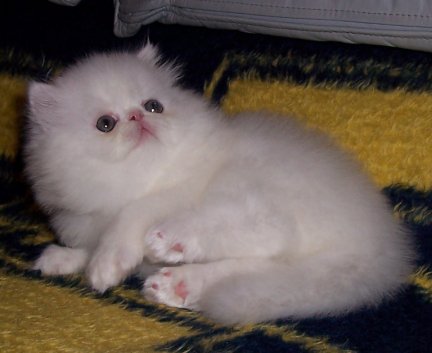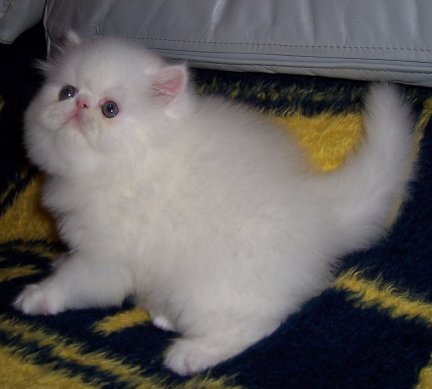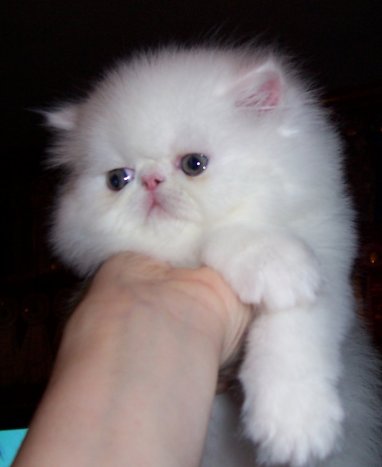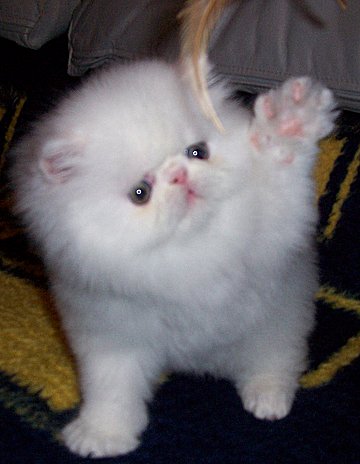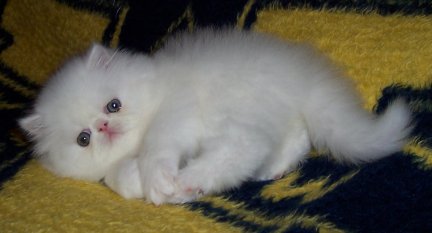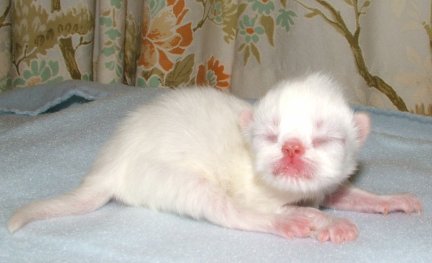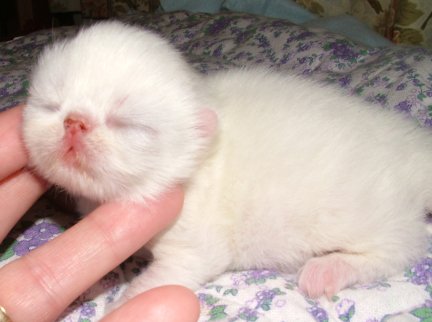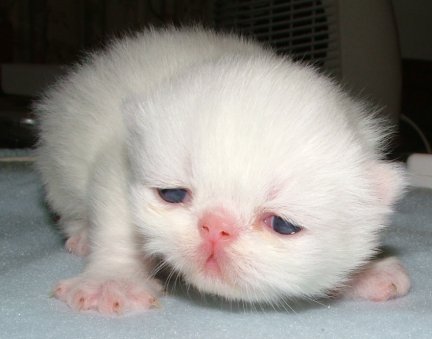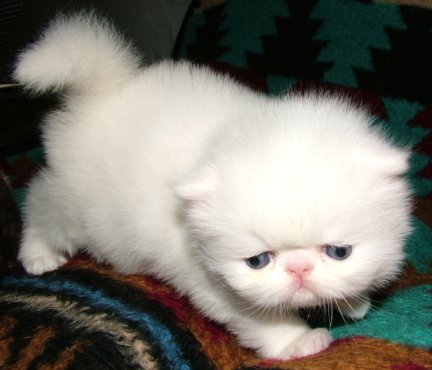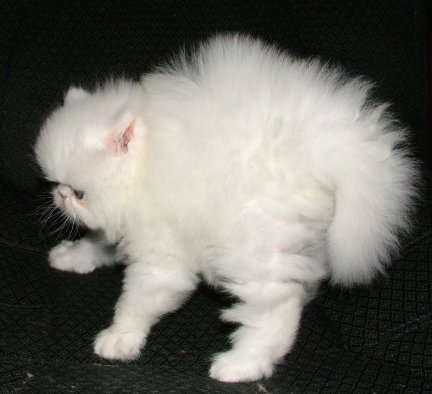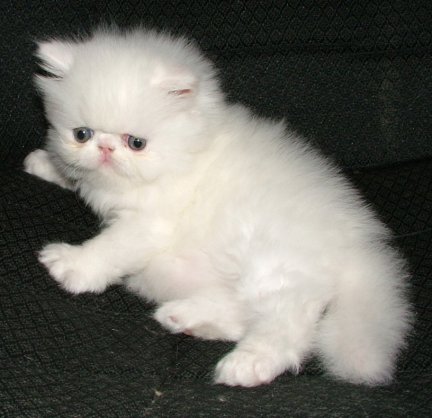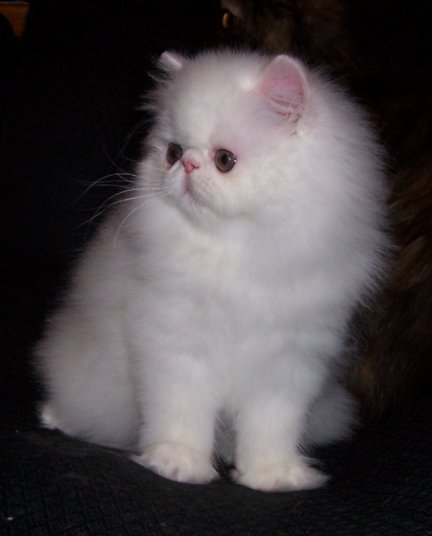 Peter was born on Easter Sunday (3-27-05).  He rapidly grew into a sweet faced, busy little Persian boy with lots of personality!

At 4 weeks he was really turning into a special kitty--but inspite of all that arching, hissing &  posturing.... He loved Posing for my Camera!

Peter grew more curious and playful everyday.   We worried about his development since this was our first time with a one kitten litter.  He developed wonderfully, and another hurdle crossed!

Here's Peter at 10 weeks old, right after a bath.  He's sleepy and pretty at the same time!!

Wow!  Time flies!  Peter is now ready for his new Home!  He'll soon be in show halls--if you see him at a show--stop by and say "Hi".  His new momma will be delighted and so will I.

Our family will miss this little guy!  Good Luck in the Shows, Jennifer!!

Our Cattery has a Movie Star!  Keep reading about Peter...and you'll see!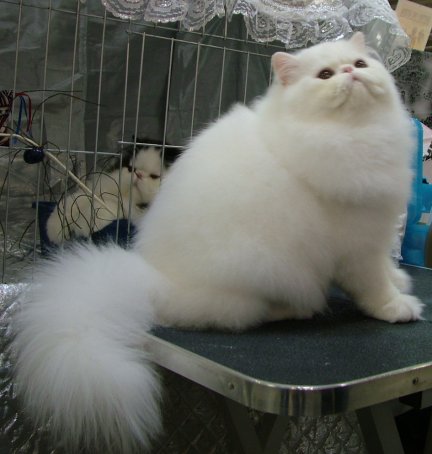 Here's Peter at 5 months old at the National Capital show in Chantily, Virginia.

Isn't he handsome!!?!! Love that coat!! If you look closely --you can see our baby AJ in the background!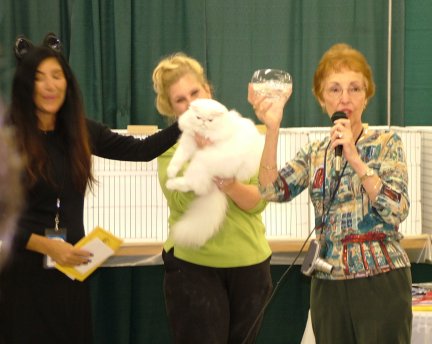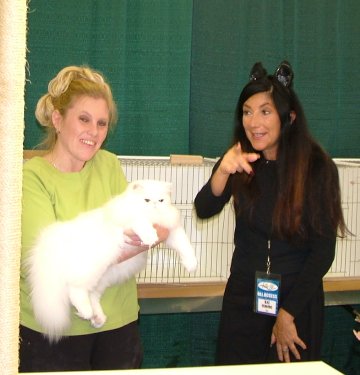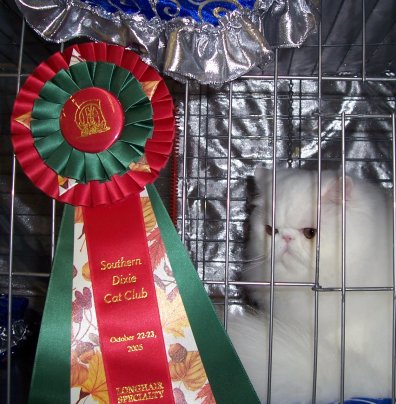 Peter Wins People's Choice Award at the Richmond Show

Kat Simons from Lite 98 radio show "Kat's Cafe" awards the "Linda Miltz" trophy to Peter for winning People's Choice Award!  Sucha lovely Honor!  Thank you!

A moment we'll never forget!

That wasn't everything Peter did at the Richmond Show--he also made a Final--3rd Best Kitten in Long Hair Specialty from Judge Lynn Search!

That was Peter's third Final and this was a show that we'll never forget!  Peter was on TV --Channel 8, and in the Newspaper! Just a dream come true!  The Richmond show will live in our Hearts for all time!

Did you know that Peter was born on EASTER?  That's how he got his name--Guess what he's dressing up as for Halloween?? That's Right--here's a preview--Have a Safe and Happy Trick or Treat Day!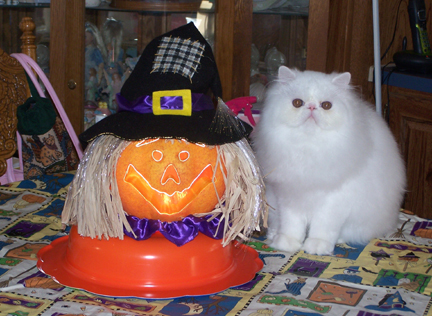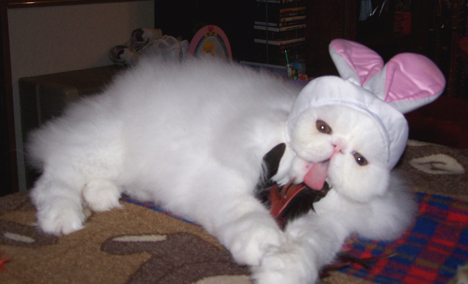 Cat Nip Toys can make even dressing up like the Easter Bunny seem fun !!!!

Peter's Show Career!!

AKA Purrden Me Gemz Crown Jewel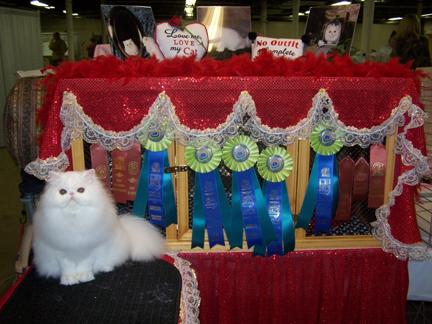 This is Peter at 7 months old at the Gaithersburg, MD show!  He made 5 out of 6 finals and 3 were All Breed rings!! YEAH!!  Thank you to all the judges that made such a Happy Day possible for us!  Peter loves showing which makes it all so much FUN!!

Have you ever read the story book:

Gigi, God's Little Princess ?? Well, in the DVD version of the story--they needed a real live Persian kitty to play the part of Lloyd Fluffy.  Guess who?? Yes!! Peter is Lloyd Fluffy.  He loved being in the movie and everyone loved him!  The Sweetest Purrsonalities in the world--he's got one!

   DVD Available in stores now!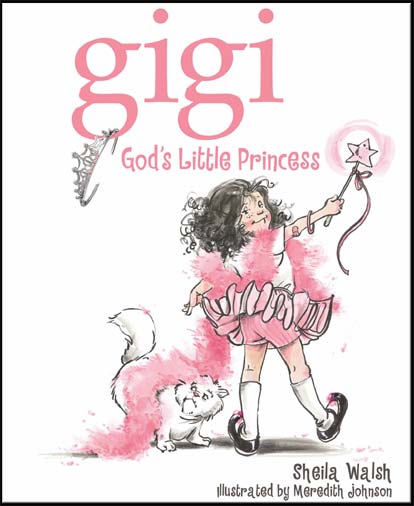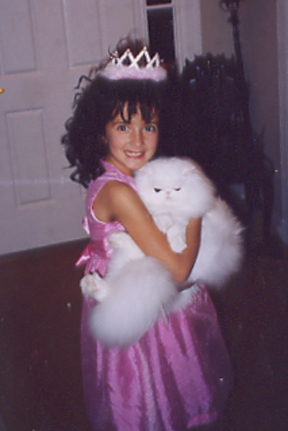 Peter as Llyod Fluffy with Gigi!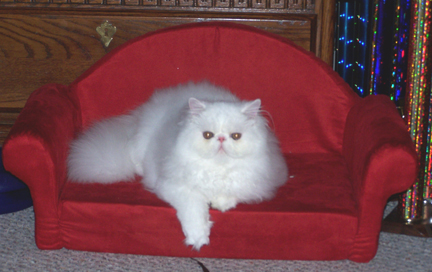 It's not enough to be a STAR--You have to BELIEVE it!

And, Believe me, Peter believes he's a Star!!

Peter went to the Santa Paws Show and received his 6 Winner's Ribbons--Yeah!  He's a Champion!

Grand Pointed!  39 points already after his first "Big Boy"  show!  He was BEST Longhair Champion! Thank you, Charlotte, NC--what a wonderful show!  Terrific Judges!  Fantastic Spectators and Friends!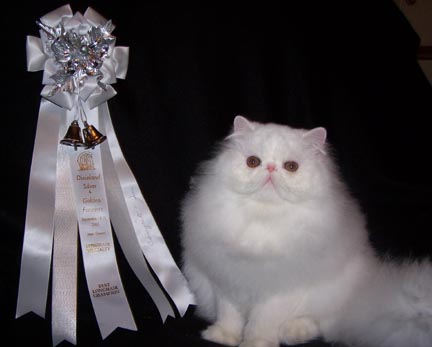 Presenting-- Champion Purrden Me Gemz Crown Jewel__ AKA "Peter"!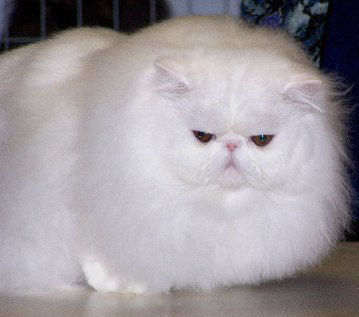 Peter! RW!!GC!!

Our Heartfelt thanks & Congratulations to Jennifer and Isaac!

Peter achieved his Regional Win in the CFA's Southern Region!  He was Lucky #13!  (RW - 2007)        Go Peter!!

If you get Richmond Magazine--keep an eye out for the Kitty spread on PETER!  He should be in the next issue November/ December 2006!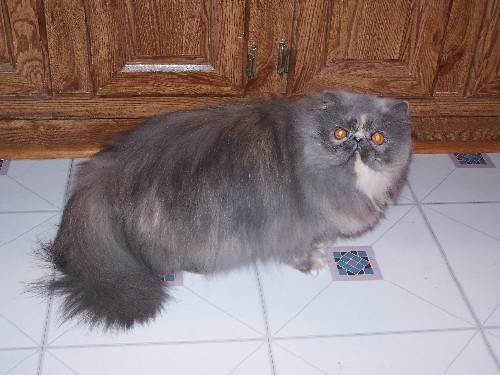 This is Pixie!  She's a Bluecream Persian.  Her fancy name is GC Purrden Me Pixiedust of DixiePawz.  She won CFA's CCC Cup in Kitten class for 2006 Region 7.  She's Peter's Girl!!

Stay tuned for updates!!

Long awaited Kittens are born:  January 2008!  Peter and Pixie proudly present their first kittens!  Solid Blue chunky boy, and solid white masking blue boy!  Pictured at 2 days of age and doing fantastic!  Congratulations to Dixie Pawz for their first of many Show Fantastic Kittens!! Stars are Born!! Stay tuned for pictures as they grow to their potential!  Congratulations again to Jennifer & Isaac!  Click on the kittens to visit their website!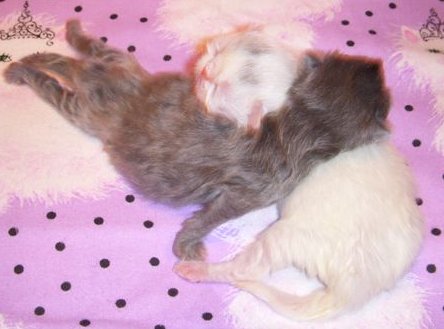 Peter ended the 2006-7 Show Season with over 4200 points and earned his Regional Win in the Southern Region with Style and Joy!  He loves showing, grooming and people.  At every show in every State he went to--people crowded around to Ooooh and Ahhhh over what a handsome and sweet natured Persian he was!  Dripping in Coat and Pristine White--he entered the show halls with Joy and everyone around him had Fun!  Thank you again for a wonderous Show Season--and Keep an eye out for Peter Babies in the near Future!! He now begins his "Stud" Career!     We know he'll enjoy that as well.



This page was last updated on: August 13, 2015
This is Toby!! He's Peter's son.  An Odd Eyed White!! He's 4 months old!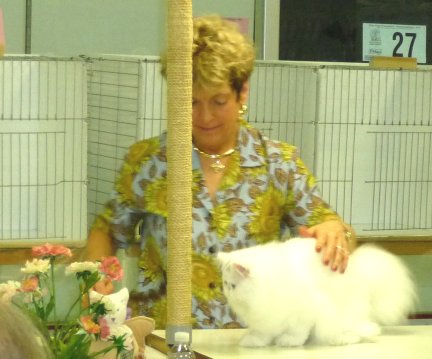 Toby is Grand Pointed now 52 points and showing Beautifully!!!

Here's Toby as an ADULT!!! Just Stunning.......Congratulations to Christian--he's soooooo beautiful!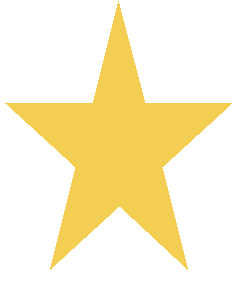 Peter is a Star and we'll

  always remember his

           contributions

           to the show

            scene!  He

          just loves to

         show!!